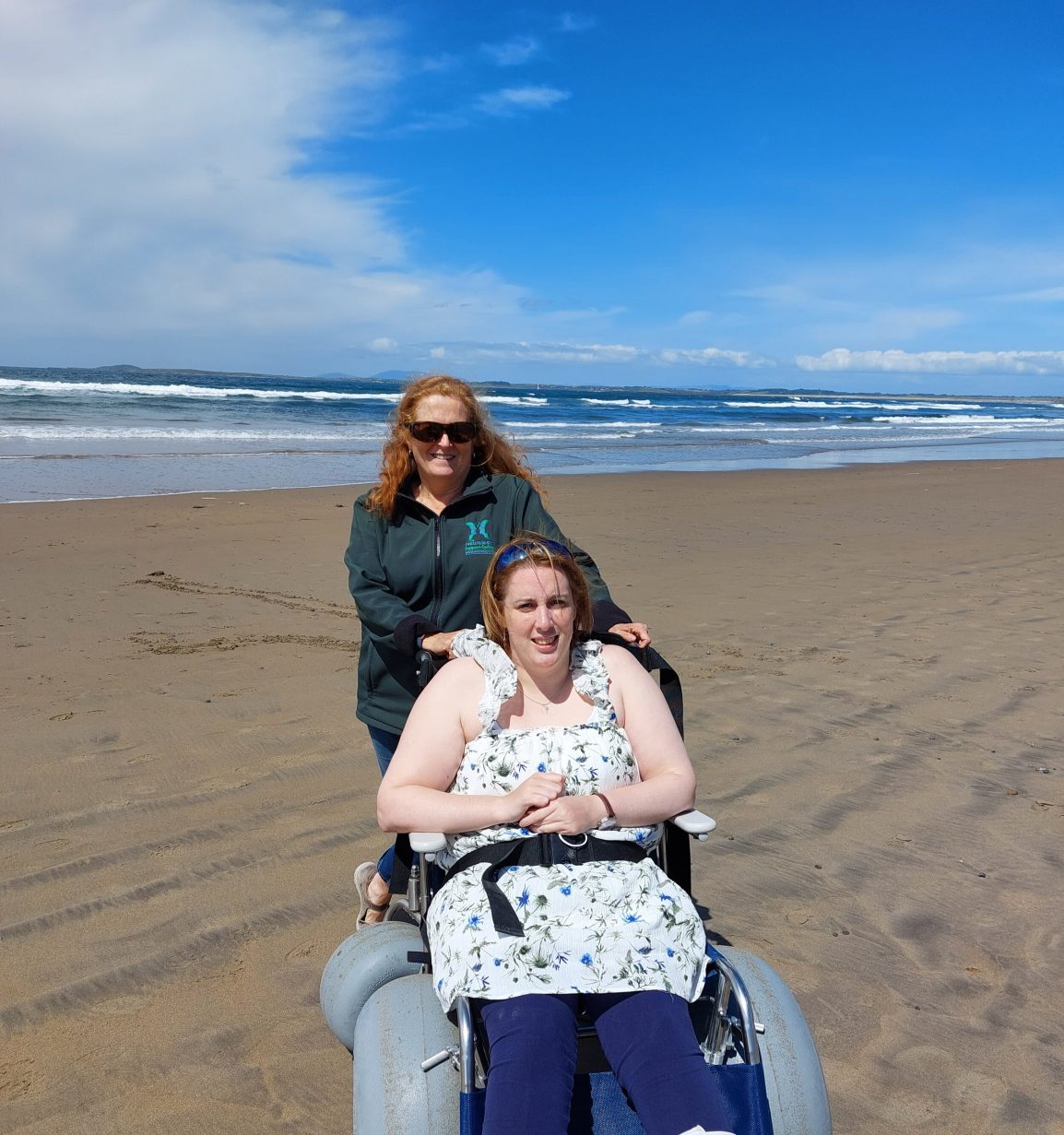 On Friday afternoon, a group of women went for a walk on Strandhill beach.  No big deal, you might think. But for Mairead Mitchell, it was the first time she had been able to go for a walk on the beach in over 10 years.
Mairead and her sister Aoibheann were diagnosed with Hereditary Spastic Paraplegia (HSP), a rare neurological disorder, in their teens, and are now both wheelchair users.  Despite being Strandhill natives, the local beach they grew up beside became inaccessible.   But last Friday, on a beautiful summer day, Mairead was delighted to be on the beach with the wind in her hair and the sun on her face and is already looking forward to her next visit.
Mairead was joined by representatives of the Neurology Support Centre, the Irish Wheelchair Association, Sligo County Council, as well as her neighbour, local councillor Sinead Maguire.  Collaboration between these groups provided transport to the beach, provision of the beach wheelchair and clearing of the ramp at Strandhill.
Most importantly, it marked an important point in engaging relevant parties in a comprehensive engagement aimed to provide similar facilities at different beaches in Sligo and also for the needs of different users. As Mairead explained, every disabled person has different needs, so it is important to assess each individual to determine how they might be able to take advantage of this programme.
There is a huge amount of goodwill and support among local people and businesses, local councillors and Sligo County Council to progress this. Another wheelchair chair is being ordered, and in the meantime the existing chair will be shared on a rotating basis between Enniscrone and Sligo town areas.
For further enquiries about using the beach wheelchair, or to volunteer to help with the beach wheelchair initiative, please contact info@neurologysc.ie or the Environment Department of Sligo County Council